Exclusive events and activities undertaken by LEAF after getting the TBI status from DST are highlighted as below:
---
An Interactive session by Dr. Unnat Pandit-Head at Atal Innovation Mission, Niti Ayog
LEAF- GLS University Incubator invited Dr. Unnat Pandit, to interact with the startups, entrepreneurs got an opportunity to discuss the problems they are facing in flourishing their ideas.The session helped entrepreneurs to understand the solution and to get motivated for future.
---
Session on climate change by Dr. Adam Fenech
LEAF- GLS University Incubator invited Nobel laureate, Dr. Adam Fenech to give a session on climate change in Ahmedabad. Dr. Adam Fenech is also the Director, Climate Resource Unit, University of Prince Edward Island. In the session he gave his insights about the climate change and its negative effect posing on environment. He also talked about virtual reality and application of drone technology to environmental science and real-world application like agriculture.
---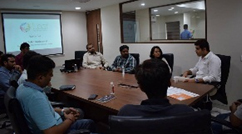 Session on funding by Mr. Pulkit Bacchwat
Mr. Pulkit Bachhawat founder of Right Pillar Advisors Private Limited was invited by LEAF GLS University Incubator to give a session on startup funding.
The session was all about the insights of funding game, why a startup needs to be clear on figure to start a meaningful conversation with the investors. He has also given his insights about different stages of funding as well as guided on evaluation of business.
---
Mentoring session on Pitch Deck by Ms. Rama Moondra
Strategic Planner, coach and mentor Ms. Rama Moondra took one-to- one mentoring session of all the startups. The session included the art of pitching the business plan presenting business model and revenue model. The session helped the startups in gaining confidence while presenting their business model.
---
A session with Mr. Devansh Shah – an Investment Banker
LEAF invited Mr. Devansh Shah an Investment Banker to give a session on Business Modeling, Fund Raising and pitching to investors. He has given his insights on about to choose a right investor for the business traction to grow at the large scale. He has mentored personally to some of the startups about the startup fund raising
---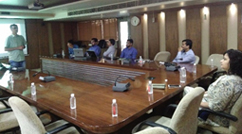 A session with Ms. Rama Moondra – An advisory board member at LEAF given on Business Plan Validation
Ms. Rama Moondra is a management coach & trainer as well as member of the advisory panel of LEAF has given a thorough session on Business Plan validation. She gave insights about the art of pitching, what an investor see in an entrepreneur while delivering business plan. With wide the range of experience, she gave the investors' mantra for making an impressive presentation.
---
TiECON, Ahmedabad 2017 Startup Power Pitches
As a part of the TiECon Ahmedabad event which was organized in March, 2017 at IIM Ahmedabad, hosted the TiECon PowerPitches in association with eChai and LEAF in February, 2017. The event aimed to discover and showc ase most promising tech product startups in front of the committee. The winners of the event got a chance to be part of the final pool of startups for TiECon Ahmedabad Investor Lounge at IIM Ahmedabad on 4th March 2017.
---
Partnership as startup Ecosystem and Pavilion Partner with TiE for TiECON 2017
In association with Tie, Ahmedabad, LEAF has supported as startup ecosystem & pavilion partner at TiECON Ahmedabad 2017. The event has been organized at the large scale to provide the platform to network and learn from Industry Luminaries, VCs, successful entrepreneurs and experienced executives. Delegate who are coming to the event create and examine the evolving businesses and new models that are radically transforming the landscape of entrepreneurship & organizations. It was a forum to get connected with the mentors, to identify co-founders, to showcase ideas, get inspired, motivated and much more.
---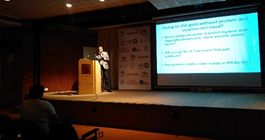 Session on Intellectual Property Rights in ICT Industry and possibility of leapfrogging in digital economy
LEAF and Intellectual Property Protection Organization Pvt. Ltd. (IPPO) in association with NASSCOM, GESIA, Indo-Canadian Business Chamber (ICBC) has organized a session on "Intellectual Property in ICT and possibility of leapfrogging in digital economy" at LEAF auditorium in February, 2017. The aim of the event was to spread awareness about the understanding of Intellectual Property Rights and their protection among ICT industry budding entrepreneurs.
---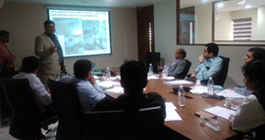 Scrutiny of Startup Business Pitch to Incubate at LEAF
Recently LEAF conducted the screening presentation of startups who are willing to be incubate in LEAF. The startups presented their ideas in front of screening committee consisted of 5 experts from diverse industries ranging from Media & Advertising to Educational, Entrepreneurship, Law, Finance. After the long thorough discussion, the screening committee validate the startup ideas to be incubate at LEAF. The most important parameters for the scrutiny were innovation, market potential, project knowledge as well as convincing power of startup
---
Partnership with LaunchPad PEI for Start-up visa program of Canada
LEAF has signed an MOU with Government of Prince Edward Island (PEI), Canada to give the platform to sartups to expand their horizon in the international market. In association with LaunchPad PEI as well as with Indo-Canadian Business Chamber (ICBC), GESIA, TiE Ahmedabad & eChai has organized a presentation on Start-up visa program of Canada for the potential startups in the month of January 30, 2017.
LaunchPad PEI's Start-up Visa (SUV) Program invited interested Indian start-ups establish new, high-growth businesses in Canada. LaunchPad PEI has promised all possible support to LEAF incubated startups from India
---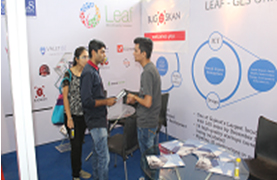 Participation in Vibrant Gujarat 2017, Mahatma Mandir, Gandhinagar
LEAF also showcased their presence at 8th Vibrant Gujarat Global Summit organized by Government of Gujarat in the month of January 2017. As an incubation centre, LEAF participated in Vibrant Gujarat to showcase its product and services to government agencies to expand its reach to various horizons. There were many visitors ranging from Government officials, Investors, potential buyers to mentors. Many potential startup have inquired about LEAF incubation center application process to avail the incubation facilities.
---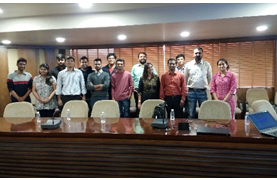 A Seminar on Digital Marketing & Branding for Startups by Ms. Anvesha Poswalia, Sr. Brand Manager, Asian Paints and Mr. Ashish Dasharathi founder of Pune Digital Marketers
With experience of approx. Six years in the field of online marketing, Ms. Anvesha Poswalia has delivered an in-depth session on Digital Marketing and its different techniques as well as Google Adwards and Analytics dashboard for the self-management. The session was an interactive as in the field of the online presence, it is essential for the every startup to have a vibrant presence in the prominent social media platforms.
Mr. Ashish Dasharathi who is the founder of Pune Digital Marketers has given the insights about the allocation of budgets to the online Marketing and how to check about the leads which are being generated through the online presence. He gave an insights to startup about the dealing with online marketing agencies who are being hired by startups. The session has been delivered by both the speakers in the month of December, 2016.
---
Participated at Vibrant Gujarat Startup Summit at Mahatma Mandir, Gandhinagar
LEAF has participated at Vibrant Gujarat Startup Summit - 2016 on 21 & 22 October, 2016. LEAF incubated startups have showcased their project and interacted with potential buyers as well as investors. Some of the LEAF startups have presented their projects in front of the government panel members. Few of LEAF startups have also participated in the coffee book table event to showcase their Project progress in stipulated amount of time
---
Participated at National Summit on Innovation & Technology Exhibition at Mahatma Mandir, Gandhinagar
LEAF has participated at National Summit on Innovation & Technology Exhibition in the month of September, October 2016. LEAF incubated startup has showcased their products and services to regional government agencies and marketed themselves. LEAF as well as LEAF incubated startups found the valuable leads and feedback as well as networking opportunities for their projects.
---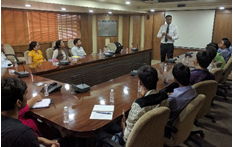 An Seminar by Mr. Paritosh Pathak on building corporate relations – Networking
Mr. Paritosh Pathak is the founder of Paritosh Pathak International organization. The organization has emerged as the first-ever consultancy in the country to take effective networking strategy as a viable skill development for corporates and managements. Paritosh Pathak is India's first and only Strategic Networking Coach.
Through his expertise in this arena of Strategic Networking, Paritosh has helped not only individuals but even organisations adopt networking as a strategic activity to achieve their goals. He delivered the session on how to build network specifically for startups as it is utmost important thing for the startups as well as entrepreneurs.
---
A Session by Mr. Hillel Parness on Intellectual Property Rights
Mr. Hillel Parness is Commercial Litigator and Trial Attorney in US. He delivered session on intellectual property rights for internet based businesses. He gave insights about US law with respect to technology based property rights. The discussion has covered the how US and Indian system is different specific to software coding and other areas of technology. He guided the incubates on developing an IP strategy in place and demonstrated techniques of Intellectual Property Audit for an early stage startup.
---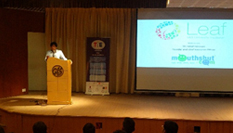 My Story with Mr. Faisal Farooqui Founder mouthshut.com
Mr. Faisal Farooqui was invited to share his story on the success of world renowned moutshut.com. He gave very thoughtful insights for online business and internet marketing. He shared his part of success and failure while establishing the company. He highlighted the points of success for an online organization and gave amazing tips on topping up the revenue model. It was a motivating and interacting session for early startups and established business.
---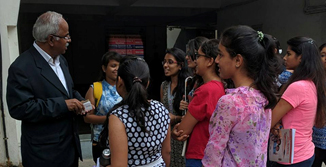 A success story with Mr. A .Valumani, Founder & CEO, Thyrocare Technologies Ltd.
Mr. A. Velumani has delivered a session about the success story of Thyrocare Technologies Ltd. It was a very enriching session about the failure, struggle and success story of the business. 250 participants were present from early stage to mature startups to aspiring entrepreneurs from Ahmedabad.
The session was organized in association with The Indus Entrepreneurs (TiE) – Ahmedabad.
---
A Seminar by Bugskan on building secure & resilient software
Bugskan Security is the incubate organization at LEAF focusing on the security in IoT technologies.
On 9th July 2016 team Bugskan officially launched Bugskan community in a debut event at GLS University. In the event Kaushal Bhavsar, co-founder of Bugskan shared his insights on security for developers, along with star Android developer Paresh Mayani. Others who contributed are Malay Parikh, Raj Geria and ChintanGurjar (who mentioned about the 8th layer of OSI model).
The event was attended by over 160 programmers, senior developers & project managers of major software development companies in Ahmedabad.
---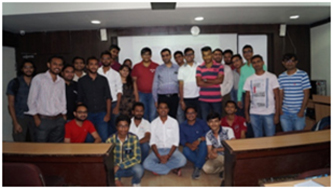 A session by E-Chai
LEAF in association with a local startup community E-Chai has organized a workshop on IOT focused entrepreneurship. There were demos and activities undertaken at the incubator to generate a new pipeline.
The entire event of 3 hours with approximately 40 attendees from different industry from engineering, Finance, Management, Technology, Security etc. was live streamed and watched by more than 5000 potential startups
---
Fourth 'Runway to Success' in association with Lufthansa and Tie, Ahmedabad
A full day event was organized in association with The Indus Entrepreneurs (TiE) – Ahmedabad, Lufthansa Airlines and Economic Times on 22nd April, 2016. The event was aimed to empower budding entrepreneurs in Ahmedabad. The initiative aimed at inspiring Small and Medium Entrepreneurs (SMEs) to showcase their business blueprints and achieve recognition to further implement their business plan. The speakers and mentors of the event were Mr. VC Karthic - Angel Investor and Metor, Mr. Chirag Patel – Founder and CEO at NET4NUTS, Mr. Lavin Mirchandani – Founder at Getevangelized, Mr. ZishaanHayath – Co-founder at Topper.com, Dr. Rajesh Asrani – Professor & Dean at School of Research and Innovation, GLS University.
Approximately 150 or more start-ups have been mentored in the event
---
Partnership with TIE for TIECON 2016
LEAF partnered with TIE for their maiden TIECON at Ahmedabad as the Startup Ecosystem Partner, and presented the entire startup pavilion during the conference. The startup pavilion showcased startups from different domains, with ready prototypes, and those looking for funding or alliances.
There were 15 such startups, selected by a rigorous process from 54 startups who participated in the screening process. LEAF is planning to host a few of these startups, the ones who match the thrust areas, and meet criteria set for selection