Women At Work
Welvet is aimed at providing a hassle free way for all styling related needs of a customer. It also provide a boost to women empowerment and self employment.
What are we solving
Only 5% of Fashion Designer graduates start their own fashion designing venture – major impediment being high capital investment for opening retail stores
At the same time, costly designer outfits are very difficult to sell online
There are 3000+ female entrepreneurs in the Salon industry in Ahmedabad alone
They are probably more experienced than branded salons but don't have a platform to represent their work and compete with branded salons like Lakme, Balezza etc.
How are we solving it
Comparing and choosing between boutiques/salons/spas/home service providers based quality, affordability and timely service made easy
An easy way for customers to book appointments and inquire and negotiate prices
A medium to showcase the works and connect to the younger generation easily for fashion designers - specially for recent fashion graduates
An affordable way to increase the customer footfall and brand awareness for existing merchants – 95% of them are women
Decreased stock management and initial investment for entrepreneurs
Collaboration with NGOs & NPOs who trains people for salon related works
---
Uniquely creates a win – win for both customers and service providers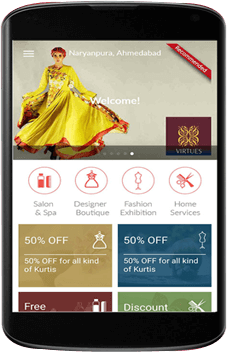 Progress till date
Launched in: Jan'16
Available On IOS, Android & Facebook
200+ Paid Customers and 6K+ Users & Followers
Incubated at Leaf : GLS University Incubation Center.
Working with NGOs who help females to develop skills in salon Industry.
Associated with 3 Top Fashion Designing Institutes of Ahmedabad.
Present in Ahmedabad and Vadodara